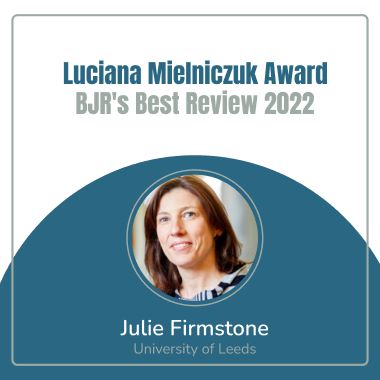 Reviewers have a crucial role in the editing process of a journal, since they contribute to the improvement of research manuscripts and guarantee excellence of published texts. However, even though it is decisive and labourious, review tends to be invisible in the production of a journal. Brazilian Journalism Research (BJR), edited by the Brazilian Association of Journalism Researchers (SBPJor), values and recognizes the work of reviewers. Since 2021, the journal recognizes the best review of submitted articles through an award.
  As of this year, BJR Award of Best Review is named after professor Luciana Mielniczuk. Prematurely deceased im 2018, her work is reference in ibero-american digital journalism studies. Mielniczuk was also SBPJor scientific director between 2011 and 2015. BJR's editorial board has decided to pay her tribute as a way to recognize her scientific contribution and value her collaboration towards the development of the journal. Editor of BJR, Laura Storch emphasizes that "to pay tribute to Luciana is a simple, but relevant gesture. She has always encouraged BJR's work and her scientific competence is a mark of the potentiality of brazilian research on journalism".  
The selection of review of the year was conducted by the following criteria: a) rigor of assessment: adherence to norms and arguments; b) depth of assessment: interaction with the text and criteirous reading of arguments presented im manuscripts; c) contribution to manuscripts: examination of points of attention, suggesting alternative and/or complementar perspectives and commenting on method and analysis.
In this edition, Julie Firmstone, associate professor of University of Leeds (United Kingdom) was awarded. The researcher said the recognition was a "lovely surprise". "I take the role [as a reviewer] very seriously, because I know by experience the difference that a well thought and constructive review can make to the author". About the relevance of the reviewers work in the collective construction of knowledge, Firmstone states that "peer review can add perspectives and perceptions to research that can improve and expand the relevance of an article". The researcher explains that a good review must highlight the positive aspects of the work, as well as point out what maigh be improved. "To write a review is not to say to someone how you would have conducted the research differently. Instead, is about helping it to become its best version", concludes.